FRANKENSTEIN – CAST
CHARLES BARAN (Father/Innkeeper)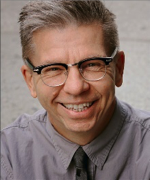 Recent credits include: Friedrich in Lili Marlene – St. Luke's, NYC, Andrew Carnes in Oklahoma – John W Engeman Theatre, Northport, NY, Gil Schmidt – Nana's Naughty Knickers and Alderman Higgs – Appointment With Death – both at Cortland Rep, Cortland NY and Admiral Boom, Bank Chairman and Park Keeper – Mary Poppins – John W. Engeman Theatre, Northport, NY.  Recipient of the 2016 MAC Cabaret Award for his solo show Recipes For Disaster at The Metropolitan Room, NYC.  His 2016 video HOME – which can be seen on YouTube – was nominated for Best Music Video in both the NYC Winter Film Awards and the NY Short Film Festival at Cinema Village.  www.charlesbaran.com
DANNY BRISTOLL (Creature)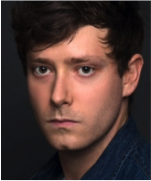 Danny is excited to be making his Off-Broadway debut alongside this incredible cast and creative team. Favorite roles include Paul in Rent at the Gallery Players, and Ernst in Spring Awakening at Theater Horizons along with various performances throughout the New York City and with Irish Repertory Theatre, as well as, with BCEFA alongside the Off-Broadway cast of Avenue Q. Special thanks to Taylor, Angela, Mom, Dad, and everyone who supported him along this crazy journey of becoming an actor. Proud graduate of Ithaca College. See more of him at www.dannybristoll.com and information about his other passion, photography, at www.dannybristollphoto.com
JONATHAN COBRDA (Victor Frankenstein)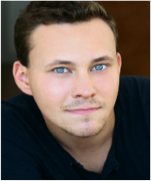 Jonathan, an NC native is casually beside himself to be making his Off-Broadway debut with this delicious company & show! Nat'l/int'l tour: Annie (Bert Healy). Regional: Guys and Dolls (Rusty), Finger Lakes Musical Theatre Festival; Peter and the Starcatcher (Smee), Les Misérables (Grantaire), CRT; The Light In The Piazza (Fabrizio), HART; Bat Boy: The Musical (Bat Boy), NCT; The Sound of Music (Franz), ALO. Creator Sweet'N Low The Show. My extensive thanks to Clint, Anessa, John, Tamra, Eric & the entire St. Luke's Theatre family for believing in me to put the pieces together. And my sincerest love and gratitude to the rest of my village, you know who you are. BFA Western Carolina University. @jonathancobrda
Benjamin M. Haupt (Henry)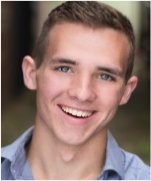 Benjamin is a graduate of the University of Alabama's Musical Theatre program, originally from Pensacola, Florida. His credits include The Little Mermaid (Ensemble/Triton Understudy), All Shook Up (Dean), A New Brain (Gordo), and Urinetown (Mr. McQueen).
Cait Kiley, EMC (Justine/Wife/Elizabeth Cover)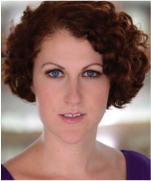 Cait is thrilled to be making her Off-Broadway debut in Frankenstein. A native of Northern California (heck yeah!), Cait moved to NYC five years ago after graduating with her BFA from The University of Arizona, Tucson. Selected past favorite credits include: Legally Blonde (Paulette), Into the Woods (Baker's Wife), Equus (Hesther), Bat Boy: the Musical (Meredith), Brigadoon (Fiona), The 25th Annual Putnam County Spelling Bee (Olive), and Lysistrata (Myrrhina/Lysistrata). In addition to her BFA training, Cait has studied Meisner technique with James Brill at the Neighborhood Playhouse, improvisation with the Upright Citizens Brigade, and various dance styles with many of this city's wonderful teachers. Random special skills include stage combat (unarmed, broadsword, and rapier/dagger), speaking Brazilian Portuguese, being an extremely quick study at dialects/impressions, and former pre-Olympic level soccer skills.
AMY LONDYN (Elizabeth)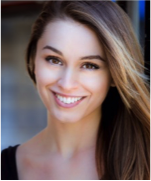 Amy Londyn (Elizabeth) is excited to be a part of Write Act Rep's Frankenstein. Most recently seen Off-Broadway in the award winning role of Rosie in Lili Marlene. Originally from Portland, OR, she studied Musical Theatre at Central Washington University and the American Musical & Dramatic Academy. Other favorite roles include Elizabeth in Frankenstein (NYC), Silvia in The Two Gentlemen of Verona, Martha in Seven Brides for Seven Brother and Polly in Crazy for You. Amy can be seen in films such as Slow Learners, 1.7 Alpha and Longing, as well as numerous commercials.  She thanks her family and friends for their unending support!
Gabriella Marzetta (Claire, Justine/Wife Cover)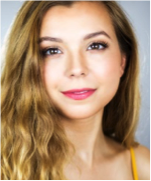 Gabriella is excited to join the cast of Frankenstein! She was recently seen Off-Broadway at Theatre Row playing Jean Simon in Science Fair, as well as Flight School (Penguin) and Pinkalicious (Alison/Dr. Wink) at Vital Theatre Company's Summer Theatre Festival. A Chicagoland native, Gabriella graduated from Chicago Academy for the Arts as a musical theatre major in 2013. She went on the Saint Louis, Missouri to attend Webster University (BFA Musical Theatre), then transferred to CAP21 in NYC, completing the Industry Practicum Program in January 2017. Previous credits include Babes in Arms (Dolores) at CAP21, Joseph (Mrs. Potaphar) at Thunder Bay Theatre, Spelling Bee (Olive), and Spring Awakening (Wendla). In her free time, she enjoys brainstorming conceptual ways to perform the musical Into the Woods, quality time with her cat (Jack) and endlessly perfecting her impersonation of Bernadette Peters.
Samantha Collette (U/S Claire)
Samantha is thrilled to join the cast of Frankenstein in her Off-Broadway debut! Previous theatre credits include Legally Blonde (Vivienne), Dirty Rotten Scoundrels (Jolene), and The Caucasian Chalk Circle (2nd Lawyer).  In the midst of various recording projects, She can also be seen leading music at Our Savior New York Lutheran Church in Rego Park. Baylor University (BFA theatre performance). Massive thanks to her always understanding friends and constantly supportive family and to the whole Lili team for such a warm welcome! For all things Samantha, visit www.samanthacollette.com
Dan Kee (Father/Innkeeper)
Adam is an Actor/V.O. Artist, and has lived in NYC for 14 years.  Adam earned his MFA in Acting, Actors Studio/New School, with additional training from American Academy of Dramatic Arts, Upright Citizens Brigade, London's Old Vic Theatre, and the Pearl Theatre Co. Conservatory.  NYC Credits: In the Heat of the Night / 59E59 Theatres/Godlight Theatre (Mr. Endicott), As You Like It / Schapiro Theatre (Touchstone), One Flew Over The Cuckoo's Nest / Access Theatre (Mr. Harding), Henry V / Rogue & Peasant Players (Nell Quickly). Regional:  The Music Man / Broward Stage Door Theatre (B'shop Quartet), Romeo & Juliet / Shakespeare Theatre of NJ (Capulet), 39 Steps, Importance of Being Earnest (Dr. Chasuable), The Fantasticks (Bellomy) / Winnipesaukee Playhouse, NH.  Adam received the NH Professional Theatre Award as Best Actor for performance in The Glass    Menagerie (Tom) / Winnipesaukee Playhouse. Adam recently played Thomas in upcoming Indie feature film, The Garden Left Behind (w/Ed Asner, dir. Flavio Alves). Adam teaches acting, and is a dialect & accent coach.  He is a Life Member of the Actors Studio.
Sean Potter (U/S Creature)
Sean is so thrilled to be joining the cast of Frankenstein having recently closed Sister Act, Hello Dolly, and Poodleful at Riverside Theater, Vero Beach, FL. Originally from New Haven, CT, he graduated from Pace University's Musical Theatre program where he was seen in Kiss Me, Kate, Anyone Can Whistle, The Light in the Piazza, and Ryan Scott Oliver's We Foxes. NYC Credits: Fabulous! The Queen of Musical Comedies. Regional: You're a Good Man Charlie Brown (Charlie Brown), Hairspray (Corny), West Side Story (Big Deal), Annie (Burt Healey). Love to Mom, Dad, family and friends!
Emmanuelle Zeesman (Cover Justine / Wife)
Emmanuelle is thrilled to be joining the Write Act Rep family again after a successful run of Renewal at The Times Square Arts Center. National Tours: Andrew Lloyd Webber's The Wizard of Oz, Guys and Dolls and five seasons singing with Symphony Orchestras throughout four continents. Off-Broadway: A Christmas Carol, The Little Mermaid, Passion and That Golden Girls Show by Jonathan Rockefeller. Regional favorites include: Fiddler On The Roof, Tommy and Blood Brothers (CCC Award Winner-Best Actress). Selected Film and TV: 6 episodes of The Unit, award winning short film Putting on a Tough Face, and Getting Along Famously starring Colin Mocherie from Who's Line Is It Anyways. Canadian born and raised, some of Emmanuelle's special skills include ice skating, fluent French, sight-reading, a variety of dialects, improvisation and quickly saying the alphabet backwards! Emmanuelle is a proud member of ACTRA and Ingrid French Management. Special thanks to John Lant, Tamra Pica and the whole Write Act Rep team for this wonderful experience! Love to my Canadian, American and Mexican families!